New nature park opens on Coney Island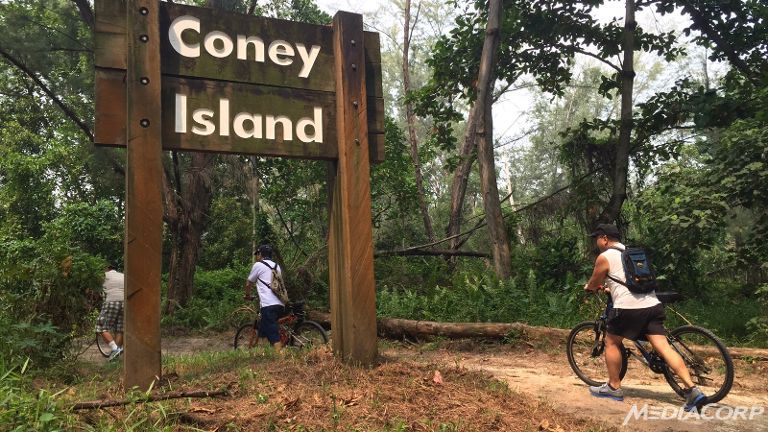 SINGAPORE: There are no hotdog stands or amusement rides at the new Coney Island Park, but there is no reason why it cannot be as popular as its New York namesake. Barely hours after it opened, there were already droves of cyclists and nature lovers at the 50-hectare park.
Located off Singapore's North East coast, Coney Island or Pulau Serangoon, is home to a wide variety of habitats, including coastal forests, grasslands and mangroves. There are also rare flora and fauna, like the nationally endangered spotted wood owl and the black-crowned night heron.
"A lot of us, when we are stuck on mainland Singapore everything's fast paced," said 21-year-old Sumita Thiagarajan, a volunteer guide for the park. "When we come out to islands like these we can enjoy the rustic nature, and slow down a little, then you get to see all the wildlife and you're like 'oh Singapore has wildlife'."
The National Parks Board (NParks) said the park is built on the principles of sustainability and the aim is to enhance and protect the wide variety of habitats in the area. The timbre of fallen Casurina trees is used to make benches, signs and boardwalks. Rainwater is collected for flushing toilets and diffused sunlight powers indoor lights. There are also nest boxes for migratory birds.
However, beyond the biodiversity, there are other reasons why Coney Island Park could prove more popular than places like Pulau Ubin.
"It's much easier for the public to access because it's actually connected to the mainland," said NParks' senior director for parks, Ms Kartini Omar. "It is also very well connected with the park connector network, the North Eastern Riverine Loop from Punggol Point, so it's just 500m away."
Visitors enter Coney Island Park using two entrances – by taking a bus to Punggol Point Park and walking 500 metres to the West entrance, or driving down the the Tampines Expressway to Pasir Ris Industrial Drive 6 for the East entrance.
The park is part of the Government's overall plan for Coney Island, which includes areas for sports, recreation and possibly even housing. An interim park is also planned for the western end of the island. However, despite these plans for urban development, Coordinating Minister for Infrastructure Khaw Boon Wan, who officially opened the park, said he hopes the park will be a symbol of sustainability.
"We will of course keep the island rustic and keep to its natural state as much as possible," said Mr Khaw. "This is so that Singaporeans, especially young Singaporeans, can get to enjoy and get close to nature."
Coney Island Park is open to the public from 7am to 7pm daily. Volunteers will also give guided walks, starting in November.
Source: CNA