Lonely cow on Coney Island
October 11, 2015 | Mothership.sg
So, Coney Island located off the north-eastern coast of mainland Singapore was officially opened to some fanfare on Oct. 10, 2015, following months getting ready of to be made accessible to the general public.
The 50-ha park, also known as Pulau Serangoon, is home to some 80 species of birds, some otters, mangrove trees and tonnes of other plants.
Besides this usual array of flora and fauna found in this part of the world, lo and behold, this moo moo right here is the cow of Coney Island: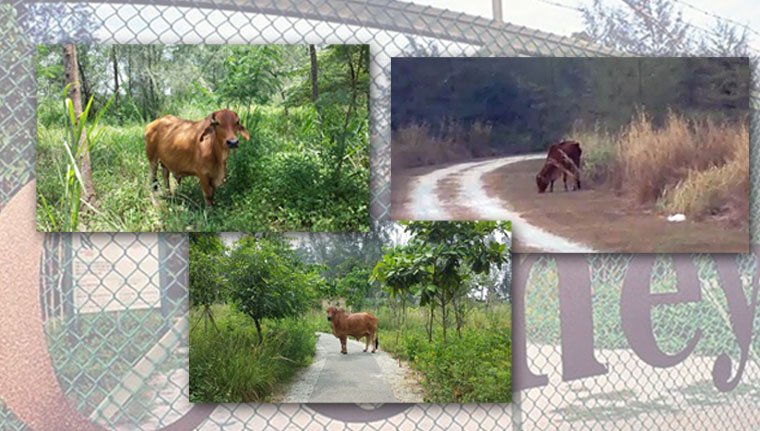 Well, technically, it is a bull, because it is male.
It is a free-roaming Brahman, a breed of Zebu cattle that originated from South Asia, identifiable by its large, pendulous ears and dewlaps, also known as loose skin that hangs from the neck or throat. It also has a prominent hump over its shoulders.
Meant to run wild and free — all alone, sadly — no one knows for sure when or how did the solitary bovine end up on the secluded Coney Island.
One theory is that it fell off a boat transporting live cattle and made its way to the shore.
Another theory, according to the National Parks Board (NParks):
Where did it come from?

The cow may have wandered in from Punggol or Lorong Halus. It was only noticed after the dam crossings were built. But as no one has reported a lost cow, its presence on the island remains a mystery.
But it has been there for several years now and it is officially under the purview of NParks, where it undergoes veterinary check-ups every six months to make sure it is healthy. ? ? ?
Visitors to the park are advised not to startle the creature, take close-up photos or attempt to feed it. And of course, do not attempt to milk it (because you can't) or eat it (because you shouldn't) either.
NParks' decision to allow this sort of megafauna to run free is amusing, to say the least: It is probably based on the merit that the bull is no longer skittish around humans.
Coney Island is self-sustaining — like the cow
And another interesting thing to note about Coney Island is that it is a park "built on the principles of environment sustainability", according to NParks.
Toilets, for instance, are zero-energy and self-sufficient.
Electricity is generated via solar power to power the pumps for the toilets, while water used for flushing and hand washing is harvested from rainwater.
Diffused sunlight is used to provide light indoors.
Park signages, seats, benches, boardwalk, as well as exhibits on the island are made from Casuarina timber from uprooted trees that were collected and recycled.
https://www.nparks.gov.sg/gardens-parks-and-nature/parks-and-nature-reserves/coney-island-park
Coney Island was previously owned by the Aw brothers of Haw Par Villa fame.
Various entrepreneurs bought and sold the island in the 1950s as they wanted to develop it into Singapore's version of Coney Island.
Apparently, nothing materialised and only the name stuck.
Used to be popular as a swimming, fishing and picnic spot, the island was frequented only by people with their own transportation, such as boaters, towards the end of the 1990s.
It was closed shortly after that for redevelopment under the Punggol 21 plan.
Park details:
Coney Island Park is open from 7am to 7pm daily.
The park is open only during the day as there is no lighting in the park after dark.
Park Entrances: 1) 500m east of Punggol Point Park (West entrance) 2) Pasir Ris Industrial Drive 6 (East entrance)
Guided walks are also available here.